Scotiabank Visa® AAdvantage®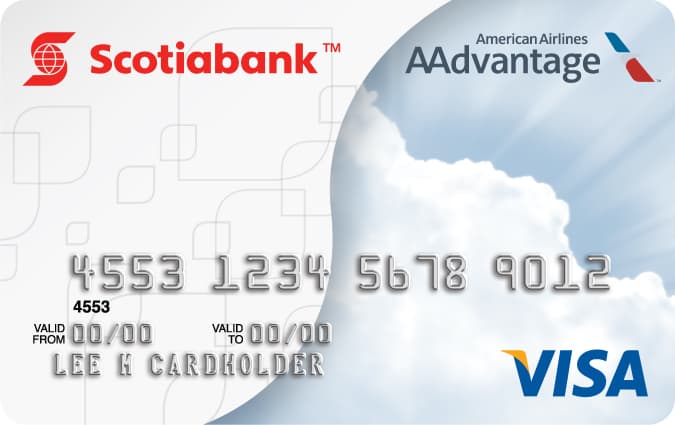 Right for you if:
You want the benefits of the world's largest travel rewards programme
Earn

3,000 AAdvantage miles on first use
+ an additional 4,000 miles in the first 3 months*

Welcome bonus 
of up to 7,000 miles*
Your card comes with benefits

Scotiabank /AAdvantage® Visa® gives customers AAdvantage Miles with every purchase. Plus, Scotiabank gives new customers 3000 AAdvantage Bonus Miles with their first purchase on the card.
The AAdvantage Programme
American Airlines' AAdvantange Programme is the world's largest and most popular travel rewards programme. Members earn Aadvantage Reward Miles on every purchase made with the Scotiabank /AAdvantage® Visa card. Reward Miles can be redeemed worldwide with luxury hotels, major car rental services and more than 30 airlines plus, it's FREE to join. Here are the benefits you'll enjoy with your AAdvantage Visa:
Earn AAdvantage Miles with every purchase made on your card; additional cards available for family members at a small charge
3,000 AAdvantage bonus miles with their first purchase on the card, plus welcome bonus of up to 4,000 miles*
Free, personalised Convenience Cheques that you can use just like your personal cheques to make purchases, pay utility bills or get cash at a teller window
Peace of mind with emergency services available through Visa International Service Centre
Provide your family with financial comfort in the event of your death with optional, low-cost Credit Life Insurance for up to US$25,000
Visit AAdvantage for more information on American Airlines and the AAdvantage programme.

Every transaction you make using a Scotiabank card with chip and your unique 4-digit Personal Identification Number (PIN) gives you an added layer of security. That means greater protection each and every time.


bonus AAdvantage Miles with your first purchase

$3,000

Find the card that's right for you.

Rates and fees vary depending on the Credit Card you choose. Download this easy-to-follow guide and choose the card best suited to your needs.
Visa Terms, Conditions and Agreement
Visa may at any time revise these terms by updating this document. Please visit this section to review the current terms from time to time.

Frequently Asked Questions
Do I need to have an AAdvantage Miles Rewards card to obtain a Scotiabank /AAdvantage® Visa?
No. An AAdvantage account number will be assigned within a few weeks of opening the credit card account
If you are already an AAdvantage member, simply fill in your account number on the credit card application form
Can AAdvantage Miles be earned on cash advances?
No. Miles are not awarded for cash advances, service charges, fees, interest charges or Convenience Cheques
How can I earn Miles faster?
By using your Scotiabank /AAdvantage Visa card for all purchases
By flying with American Airlines or any one of its 30 airline partners
By presenting your AAdvantage card to participating AAdvantage members and paying for your purchase with your Scotiabank /AAdvantage Visa credit card
How are Miles calculated for retail purchases?
The total amount of all retail purchases listed on your monthly statement is used to calculate the number of AAdvantage Miles credited to your account; you earn one AAdvantage Mile for every US dollar (or equivalent) spent
How do I keep track of my AAdvantage Miles?
AAdvantage provides customer statements on a regular basis, detailing all AAdvantage Miles earned during that period
AAdvantage Miles, including purchases and Bonus Miles, will be posted to your account approximately 8-10 weeks after the original transaction date
You can also call AAdvantage (817) 799-2500, or go on-line at www.aa.com
Please note: Miles earned using the Scotiabank /AAdvantage Visa card are issued only once per month and will appear on your AAdvantage statement the following month. Therefore, AAdvantage miles earned between the first and last day of the calendar month are sent to AAdvantage at the end of the cycle and will appear on your next AAdvantage statement.
What if I have questions about the AAdvantage Programme?
Inquiries concerning the AAdvantage Programme should be directed to AAdvantage (817) 799-2500
Inquiries concerning Scotiabank /AAdvantage Visa should be handled at your branch or by calling the Bank of Nova Scotia Jamaica Limited at (876) 960-2675
If I have more than one AAdvantage account, can I transfer the Miles balances to just one account?
You can only transfer the Miles balance if the name and address on both accounts are the same and there are no more than 50,000 eligible rewards Miles in the account that will no longer be used
Please contact AAdvantage (817) 799-2500 for more information
Applying for your Scotiabank /AAdvantage Visa credit card is easy. Contact us for more information about this product (including rates and fees), and the benefits of transferring your existing credit card balance(s) to Scotiabank.
NEW: Effective Immediately, you may be subjected to currency conversion fees and taxes on your account when you use your Visa Debit or Credit card at retailers and service providers located in Bahamas who process transactions in US Dollars. These charges will be reflected on your monthly debit and credit card statement. Please refer to your card holder agreement for further information.

®
AmericanAirlines and AAdvantage are marks of American Airlines, Inc. 

®
Indicates a registered trademark of Visa International Service Association. Used under licence by The Bank of Nova Scotia