Scotiabank Looking to Improve MSME financing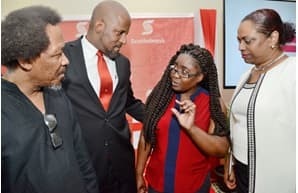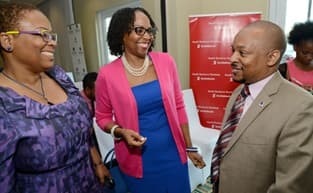 Caption 1
Sharon Denny Tomlinson (2nd r), has the full attention of Professor Vanus James (l, SERMAF Risk Rating Consultant, and Scotiabank Executives Wayne Henry (2nd l) and Patsy Latchman Atterbury (r), as she outlines a number of reasons why her participation in the the Scotiabank Enterprise-Wide Risk Management and Financing (SERMAF) Programme for Small and Medium-sized enterprises (SMEs) was so important. Ms. Tomlinson was one of 1000 one of the participating entrepreneurs in SME's to have been part of an extensive 2 year research developing psychometric variables for managing credit risk for small businesses.
Caption 2
Pamela Douglas (l, Scotiabank Director and Professor Rosalea Hamilton (c), SERMAF project director, have a chat with Edison Galbraith(r), Development Bank of Jamaica executive at the closing ceremony of the Scotiabank Enterprise-Wide Risk Management and Financing (SERMAF) Programme for Small and Medium-sized enterprises (SMEs) held recently at the Courtyard Marriott. SERMAF had just concluded a 2 year research on utilising alternate credit risk rating scores for SME's.
[January 28, 2016] Recent research findings from the Scotiabank Enterprise-Wide Risk Management & Financing (SERMAF) project, suggest that attitudes and personality of business owners or managers matter in determining the efficiency of a business and its ability to access financing. The findings, that come out of an intensive two year study with over 1000 micro, small and medium sized enterprises (MSMEs), is part of a drive to discover new and more effective ways to assist the financing of SME's. The project is funded by the Inter-American Development Bank (IDB), Scotiabank Jamaica and the Development Bank of Jamaica (DBJ).
The SERMAF project is a specially-designed risk rating measure for MSMEs that uses psychometrics as an assessment tool for lending to the MSME sector, and should ultimately improve access to financing for these underserved businesses in Jamaica. During the research period, psychometric as well as accounting data, were collected from 1,008 businesses in a random sample by the University of Technology, Jamaica through the Scotiabank Chair in Entrepreneurship & Development.
In his review, Vanus James, the SERMAF Risk Rating Consultant, established that psychometric indicators were very significant in explaining business efficiency, and in turn, the riskiness of businesses in Jamaica. This kind of risk assessment should inform not only the business's capacity to repay loans, which has been the traditional focus of financial institutions, but also their willingness to repay loans. This is a significant step in the financing landscape of small businesses as this approach of measuring business risks will significantly improve the measure of the creditworthiness of SMEs and will ultimately enhance their access to financing.
According to Patsy Latchman Atterbury, Scotiabank's Executive Vice President for Retail Banking, "at Scotiabank, our core purpose is making our customers financially better off by providing solutions to their unique needs. We believe that in order to positively impact policy and financial solutions, our conclusions must be supported by research" she said. "The risk rating model which uses ground breaking psychometric variables in the evaluation of credit worthiness of MSMEs will ultimately lead to an even greater increase in access to financing for MSMEs, which as we are all aware, is a critical element to drive economic growth", she continued.
"The fact that 1,008 MSMEs were willing to take the time to confidentially share important information about their business and answer psychometric questions as well as follow-up calls to verify the data, is quite astounding" said Prof. Rosealea Hamilton, Professor in the UTech/Scotiabank Chair in Entrepreneurship and Development, who has direct oversight of the project.
She also highlighted a number of outcomes that have resulted from the exercise including a database that has been developed that holds the psychometric profiles of 1,000 SMEs including their gender, credit, participation in the banking system, financial status, location, employment, registration status, business failure rate and age. In addition Hamilton advised that 150 SMEs were supported through capacity building services including internet entrepreneurship training, business planning and business mentorship-coaching.
These findings are path-breaking…primarily because analysts in Jamaica, and indeed the English-speaking Caribbean, have never before been able to collect and analyze this type of business data.
About Scotia Group Jamaica Limited (SGJL)
Scotiabank has been in Jamaica since 1889 and is the premier financial institution in the country with just over 2,000 employees and 35 Branches Island wide. SGJL is a subsidiary of Scotiabank (Canada) and offers a diverse range of products and services including personal, commercial, and small business banking, wealth management, insurance, and mortgages. SGJL is an award winning institution having been named on numerous occasions as the Bank of the Year and Best Bank in Jamaica by international financial publications – the Banker, Latin Finance, Euromoney, and Global Finance magazines. SGJL has JMD$ 414 billion in assets (as at January 31, 2015). For more information please visit www.scotiabank.com/jm.