Sean Paul Donates Over $1-Million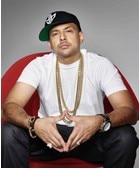 [January 6, 2016] The Scotiabank pledge tents came in handy for Reggae artist Sean Paul team, when they used the opportunity of Shaggy and Friends concert to donate over $1-million towards the benefit. According to the international star "every year I've been at Shaggy I've either been there and worked and performed.... so this year since I wasn't going to perform I just did that. Each one teach one. You see it, you see it".
Scotiabank has for the last two Shaggy & Friends performances set up pledge tents to attract additional donations from patrons interested in giving to the Bustamante Hospital. The tents come equipped with point of sales machines capable of accepting debit and credit card transactions. Tents hosted by ScotiaVolunteers, were set up in the platinum, gold and silver sections.
For this the 5th staging of the show Scotiabank again came onboard to support the effort in cash and kind. The bank who signed up as a platinum sponsor of the event, contributed $5Million towards the cause, with approximately another $5-million of time and expertise given though the labour of just under 200 Scotia Volunteers, who were on hand to man the gates, act as hostesses, and assist where needed.
Sean Paul, who has participated on the Shaggy and Friends show on a number of occasions, was unable to participate on the show, but made the pledge through his booking agency Headline Entertainment. According to Jerome Hamilton of Headline Entertainment, Sean Paul has made personal contributions to the cause over the years including the purchase of a US$50 thousand ventilator presented in 2010, the purchase of premium tickets for various persons to attend the event, and covering of expenses for this entire team to perform on the show.
About Scotia Group Jamaica Limited (SGJL)
Scotiabank has been in Jamaica since 1889 and is the premier financial institution in the country with just over 2,000 employees and 35 Branches Island wide. SGJL is a subsidiary of Scotiabank (Canada) and offers a diverse range of products and services including personal, commercial, and small business banking, wealth management, insurance, and mortgages. SGJL is an award winning institution having been named on numerous occasions as the Bank of the Year and Best Bank in Jamaica by international financial publications – the Banker, Latin Finance, Euromoney, and Global Finance magazines. SGJL has JMD$ 414 billion in assets (as at January 31, 2015). For more information please visit www.scotiabank.com/jm.