ScotiaFoundation Assist Pregnant Girls with Career Development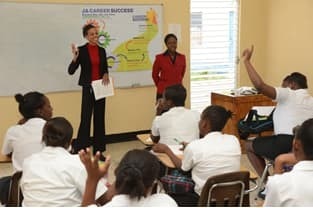 ScotiaVolunteers lead discussion with adolescent mothers on Career Success techniques.
[February 2, 2016] 480 adolescent mothers will benefit from special sessions on career development courtesy of the ScotiaFoundation and the Jamaica Junior Achievement. This is the second year of the partnership on the programme titled Girls Empowered for Motherhood and Success (GEMS) that reaches out the assist young women at Women's Centres across the island. The course will be facilitated across seven weeks by Scotia Volunteers.
This year the number of participants has increased 100%, up from 240 girls in 2015, as the Women's Centre Foundation has opened access to the course to girls at 14 centres of their 16 centres. The four additional centres are located in in Denbigh, Highgate, Duncans and Santa Cruz.
In this seven week programme titled JA Career Success, the ladies will be trained in such topics as critical thinking, communication, collaboration, work priories, and soft skills. Fourteen sessions are being facilitated weekly by 150 ScotiaVolunteers in parishes across the island, who themselves were trained for this exercise. Sessions culminated in the week of January 25, and will conclude with a conference on International Women's Day on March 8, 2016.
Career Success is a course developed by the Jamaica Junior Achievement that equips students with tools and skills required to earn and keep a job in high-growth career industries.
The Women's Centre Foundation has been in operation since 1978 and has is primarily focused on assisting pregnant teens under the age of 17 continue their education. The programme focuses on continuing education, counselling, contraceptive counselling and support from the Ministry of Education for reintegrating girls into the formal school system.
About Scotia Group Jamaica Limited (SGJL)
Scotiabank has been in Jamaica since 1889 and is the premier financial institution in the country with just over 2,000 employees and 35 Branches Island wide. SGJL is a subsidiary of Scotiabank (Canada) and offers a diverse range of products and services including personal, commercial, and small business banking, wealth management, insurance, and mortgages. SGJL is an award winning institution having been named on numerous occasions as the Bank of the Year and Best Bank in Jamaica by international financial publications – the Banker, Latin Finance, Euromoney, and Global Finance magazines. SGJL has JMD$ 414 billion in assets (as at January 31, 2015). For more information please visit www.scotiabank.com/jm.