Scotiabank finances acquisition of health brands by Agostini's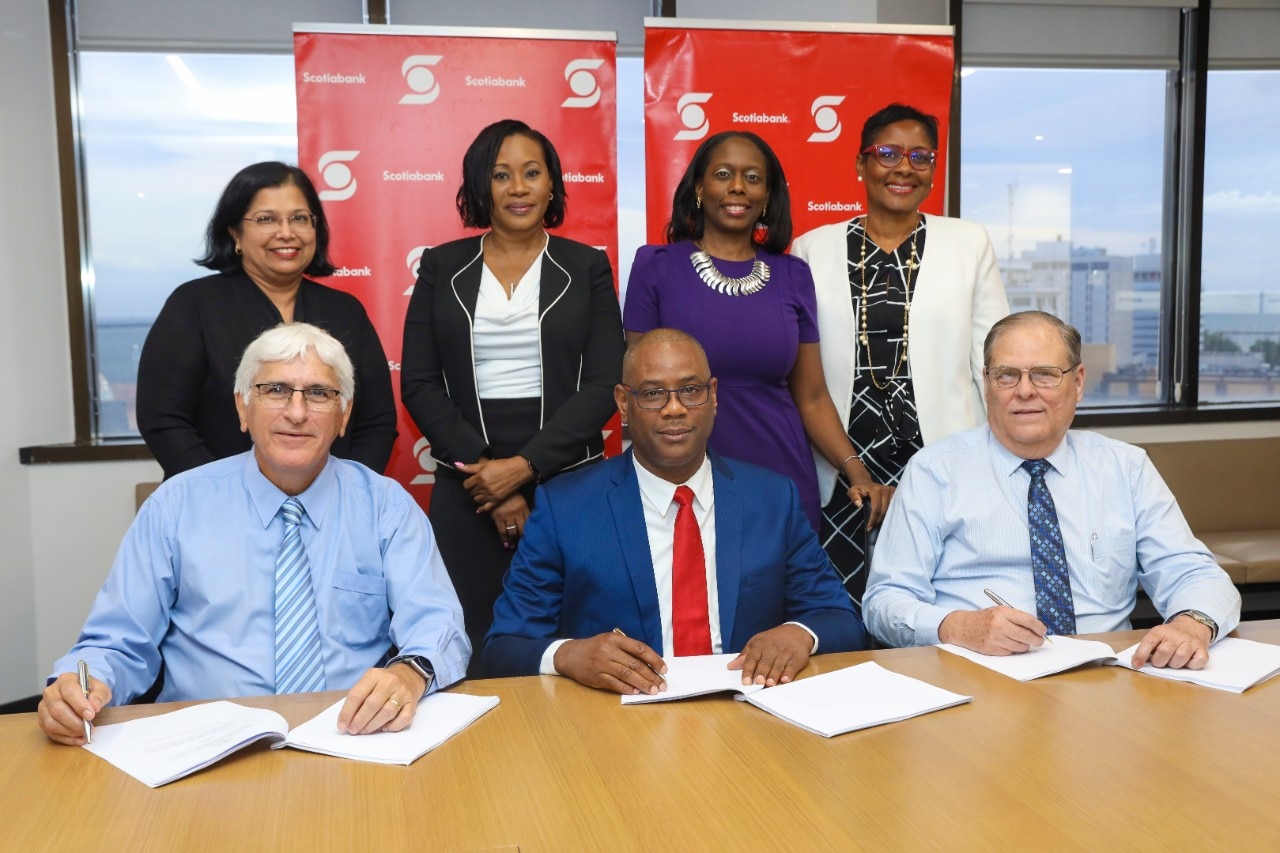 1st row – (left to right) – Roger Farrah,Director - Agostini's Jamaica Ltd, Morris Nelson,Senior VP Corporate & Commercial Banking - Scotiabank and Anthony Agostini (Managing Director  - Agostini's Ltd are photographed after concluding business at the Scotiabank headquarters in Downtown, Kingston. Sharing in the moment is (2nd row – left to right) – Indera Maharaj,Acting CEO - Agostini's Jamaica Ltd, and Scotiabank's Donna James, Senior Client Relationship Manager, Venderlyn Williams ,Senior Manager Credit Solutions and  Nadine Heywood ,Vice President Credit Solutions.
Kingston, Jamaica - September 1, 2023 -Trinidad and Tobago conglomerate Agostini's Limited has completed the acquisition of pharmaceutical distribution and consumer brand company Health Brands Limited in Jamaica.
The deal, which was funded by Scotiabank was finalised on August 3. Formed in 1975, Health Brands was owned by Smith Russell and Company Limited. It was formerly a subsidiary of GraceKennedy Group, operating then under the name Medi-Grace. Founded in 1925, Agostini's operates in six regional markets, exports to 10 countries, and has more than 3,000 employees.
Managing Director Anthony Agostini said that the acquisition was in line with the company's core business operations and its expansion objectives. "Health Brands is a key player in the pharmaceutical distribution industry in Jamaica and this acquisition will strengthen Agostini's ability to offer pharmaceutical suppliers a single point of contact in the region, from Guyana in the south to Jamaica in the north." Mr. Agostini said.
Morris Nelson, Senior Vice President, Corporate and Commercial Banking, said Scotiabank was pleased to support Agostini's Limited on the acquisition. "By structuring a tailored financing solution and extending our local knowledge and expertise throughout the course of the transaction, we were happy to have played our part in supporting Agostini Limited on this Jamaica acquisition. Scotiabank's unique footprint across the Americas allows us to support our regional and multinational clients to enter new markets by providing end-to-end financial and operating solutions for their businesses." Nelson said.
Agostini's has been on an expansion upswing, having finalised other purchases in the last two years.
The most recent acquisition was of the Barbados-based pharmaceutical distribution and manufacturing companies Collins Limited and Carlisle Laboratories Limited in December 2022. That involved the purchase of 100 per cent of the issued and outstanding shares of these two companies. The purchase of Process Components Ltd was completed in October 2021 and it was merged with Rosco Petroavance.
Agostini's also acquired Oscar Francois Limited and Intersol Limited in early 2022.
Agostini's latest published financials showed a 14 per cent rise in sales to TT $4.1 billion(J$91.4 billion) and an increase in earnings per share from TT$2.05 to TT$2.91. There was also a 29 per cent improvement in return on equity from 11.2 per cent to 14.4 per cent.