Scotia Group Congratulates Financial Analysts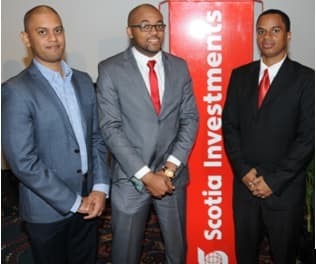 Newly minted Scotia Group CFA's (from left) Mario Ahjahorie, Franklyn Anderson, and Andrew Wedemire, were three of eleven to received their charter last week.

Scotia Group celebrated with three of their own last Thursday as they officially received their charter as Certified Financial Analysts from the CFA Institutes global body. Mario Ahjahorie, Franklyn Anderson, Andrew Wedemire were three of the eleven persons received into this august body at a special dinner hosted at the Jamaica Pegasus.
To officially welcome the newly minted charter holders, and to celebrate the first visit of President and CEO of the CFA Institute, Paul Smith, Scotia Group hosted a special breakfast the following morning. The event was used an opportunity to share more on the importance of CFA's for the development of Jamaica, as well as to give an overview of the current economic situation.
In a casual breakfast forum, both Paul Smith of the CFA Institute and Jason Morris of Scotia Investments, were quizzed on the role of CFA's and the economy respectively. Smith endorsed the establishment of a Jamaican chapter of CFA's and poised that this will positively impact the financial community and assist in the creation of an industry geared toward delivering what Jamaica needs from its financial sector. On a global level, The CFA institute is dedicated to helping develop the societal framework, and then utilising the expertise of educators and employers, work to improve the quality organisations and their operations.
Morris took the opportunity to share on the economy. According to him, the Jamaican situation is on an upward trajectory… the IMF programme is being executed well; inflation is below 3 percent; Jamaican dollar has regularized; low oil prices are contributing to improvements in manufacturing and construction and increasing electricity consumption, due to lower prices, means improved productivity.
The Chartered Financial Analyst (CFA) Program is an international professional credential recognised across the world. A candidate who successfully completes the program and meets other professional requirements is awarded the "CFA charter" and becomes a "CFA charterholder". Scotia Group is one of top employers of CFA Charter holders in Jamaica with 14 of the 56 members in the island working with the organisation.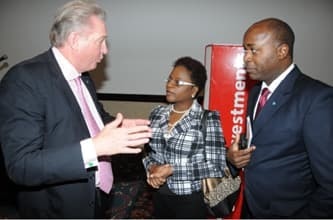 Paul Smith (l), President and CEO CFA Institute hold the attention of Darlene Jones (c), Executive Director Jamaica Institute of Financial Services and Hugh Miller (r), COO Scotia Investments at the recently held breakfast at the Jamaica Pegasus.

About Scotiabank:
Scotia Investment is a subsidiary of Scotia Group Jamaica which offers a diverse range of products and services including personal, commercial, and small business banking; wealth management; insurance; and mortgages. The Group is an award winning institution having been named on numerous occasions as the Bank of the Year and Best Bank in Jamaica by international financial publications - the Banker, Latin Finance, Euromoney, and Global Finance magazines. The Scotiabank Group has $407 billion in assets (as at October 31, 2014). For more information please visit www.jamaica.scotiabank.com.