Kiddy Cricket Display young player's interview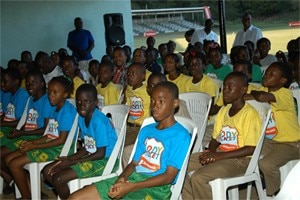 Students listen keenly at the close of the WICB/Scotiabank Kiddy Cricket camp.

The Santa Cruz Primary School Team celebrate their win in the WICB/Scotiabank March Kiddy Cricket Festival.

Kingston, June 25, 2013 - Eighty boys and girls from eight primary schools will energize the field at Sabina Park this Friday with a display of skills during lunch time at the West Indies/India tri-nation match. The schools, dubbed "Super 8" teams, emerged as top performers in the WICB/Scotiabank Kiddy Cricket camp which ended in March with Santa Cruz Primary the winner. Santa Cruz beat Howard Cooke Primary with while they scored 132 runs. The schools will demonstrate, within fifteen minutes of the lunch break, correct techniques of batting, bowling, catching and fielding as developed during the training and coaching provided by the WICB/Scotiabank Kiddy Cricket programme. Participants are from Tarrant, Excelsior, Zion Hill, Bounty Hall, Howard Cooke, New Works, Santa Cruz and Old Harbour Primary schools.
Adding to the excitement will be Chirpy, the Kiddy Cricket mascot who was unveiled last year. Chirpy, was designed by a student of the Kiddy Cricket programme and brings to life the fun, wonderful memories and promise of the game. And toward the end of the display, another great cricket moment will be witnessed as patrons will be asked to focus on the screens to see young cricket player and enthusiast Dean Clarke of Jessie Ripoll Primary School, interview former West Indies player and cricket legend, Michael Holding.
The Scotiabank-sponsored West Indies Cricket Board (WICB) Kiddy Cricket Programme aims to give primary school children an appreciation for the game. In addition, the programme helps to foster a love of learning and builds leadership skills. The Kiddy Cricket programme targets boys and girls, ages 7-12. In addition to teaching them how to play the game, Kiddy Cricket helps to foster a love of learning and builds leadership skills. By developing motor skills, arts & crafts abilities, and even math speediness, Kiddy Cricketers become more disciplined and confident. Several graduates of the programme have gone on to participate professionally in clubs across the Caribbean.
This year's 2013 Scotiabank Kiddy Cricket programme includes, a Kiddy Cricket Festival, a summer camp, motivational talks and coaching clinics and matches. The Festival focused on the development of fundamental cricket skills in a competitive environment. The Kiddy Cricket programme was introduced to Jamaica in 2000. Scotiabank has provided training and material to thousands of children in Jamaica and distributed hundreds of teaching manuals and Kiddy Cricket kits to hundreds of schools. "As the Official Bank of West Indies Cricket, Scotiabank's support of the WICB helps to promote, develop and celebrate a sport that is an integral part of the Caribbean history, culture and identity, and plays an important role in future development of the region," said Monique Todd, Vice President Marketing, Public and Corporate Affairs.