Facilitating Real Time Discussion on Children's Health
Bustamante Hospital Telemedicine Centre - Facilitating Real Time Discussion on Children's Health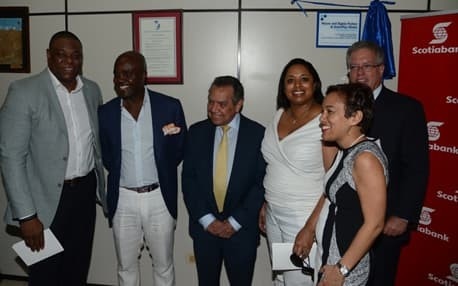 Scotiabank's President and CEO, Jacqueline Sharp, in conversation with other distinguished guests at the opening of the Bustamante Telemedicine Centre. Sharing the lens are from left, fellow donors to the initiative Wayne Purboo, QuickPlay Media, Wesley Hall, CEO Kingsdale Shareholder Services, Dr. Victor Blanchette, Nigela Purboo and His Excellency Robert Ready, Canadian High Commissioner.

[Thursday, February 23, 2015] Children suffering from cancers and serious blood disorders will now be able to receive earlier diagnosis thanks to the opening of the Telemedicine center at Bustamante Hospital on Thursday, February 19, 2015. The project will facilitate discussions by physicians in Jamaica, Toronto and across the Caribbean, and enable them to compare case studies, formulate diagnoses and discuss best care scenarios for the patients.
This Telemedicine Centre is one of six opened across the Caribbean by Sick Kids International in partnership with Scotiabank through its global philanthropic program, Bright Futures. Two years ago Scotiabank announced a pledge of CAD$1 million to support the Caribbean- SickKids Paediatric Cancer and Blood Disorders Project. These funds were be used to support the project's telemedicine programs in Barbados, Jamaica, St. Lucia, St. Vincent and the Grenadines, Trinidad and Tobago, and The Bahamas.
According to Jacqueline Sharp "the Telemedicine centre at Bustamante Hospital will transform the way healthcare is delivered to our children as our doctors can now consult with leading doctors in Canada to assist in the diagnosis and treatment of paediatric cancers".
The Idea for the Caribbean initiative was initially conceptualised by Dr. Victor Blanchette of Sick Kids International, who while doing research on child healthcare in developing countries across the Caribbean, discovered a severe lack in diagnoses and treatment for children with cancer. Since then centres have been successfully opened across the region with monthly patient consultations that happen between each of the six countries and Toronto.
While doctors participating from other countries will not interact with the patient, they are briefed on the case and can provide additional insight based on their own experiences dealing with similar challenging cases.
Dr. Victor Blanchette, Director of the SickKids-Caribbean Initiative, shared that "there have been 51 cases to date that have been part of the telemedicine rounds. We (Sick Kids Toronto) provide case summaries with recommendations for follow-up treatment for the local physicians after the telemedicine rounds". He continued by pointing out that there are also many educational takeaways saying "benefits are not only with second opinions with treatment recommendations, but educating a wide range of participants throughout different disciplines. We also look at the number of participants who attend each of the rounds which shows the breadth of interest from physicians, nurses, technicians, and trainees who all are seen online". "Doctors" he added, will also have "opportunity to do emergency calls and consultations as-needed".
Other elements of the Initiative will include setting up a patient management tracking system and the establishment of a nursing training program.