Community Programs and Events
ScotiaFoundation Funds Scoliosis Surgeries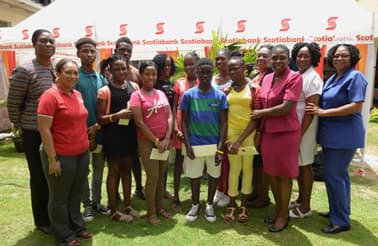 9 teenagers (ages 14 to 18 years) were beneficiaries of Scoliosis Surgeries under the partnership between the Kinston Public Hospital, Medical Technologies Limited and the ScotiaFoundation. Their stores are similar – living for years with the pain and low self-esteem of having a deformed spine and being unable to fund the cost of the surgery to enable them to live as normal teenager. These 9 beneficiaries bring to 74 the total number of teenagers who have had corrective surgeries under our Scoliosis and Spine Care Programme which started in 2008.

Scotiabank Lauded for Contribution to Jamaica Colleges New Dorm Facilities

Jacqueline Sharp, President & CEO Scotia Group positions herself to cut the ribbon at yesterday's opening of the newly built Jamaica College 'Mayer Matalon' dormitories. The dorm that is slated to house up to 72 students was built based on the donations of 40 sponsors, of which Scotiabank contributed $15 Million. The Bank was one of 40 donors to fund to the building, and together with the Matalon family, contributed 50% of the monies required.

ScotiaFoundation Assists the JAAC Free Medical Mission to Jamaica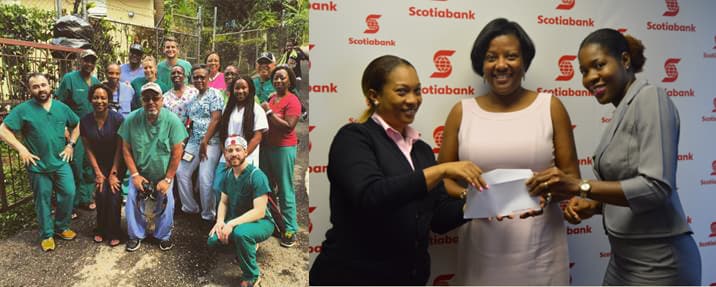 The ScotiaFoundation stepped in to assist the Jamaica Awareness Association of California, (JAAC) with the cost of transporting their 46 strong mission team across the island. The JAAC is a charitable group of medical and educational professionals from across the United States of America, who donated their time and expertise to offer free services and advice in Jamaica. Members of the team comprise nurses, doctors, dentists, educators, technology experts and behavioural therapists on the island to offer free medical services and educational consultancy in the parishes of St. Mary and Trelawny.

ScotiaFoundation Unveils 214 Names Of Children Added To The Crying Child Monument

[May 25, 2016] The ScotiaFoundation today unveiled an additional 214 names engraved onto to the Crying Child Monument. The names inscribed are those of Jamaican children who have died under violent and tragic circumstances since May 16, 2011.

2000 Children Served During Nutrition For Learning Week

Approximately 2,000 children in nine schools across the island were served breakfast by Scotiabank executives as part of the Child Month activities in May 13. Dubbed Nutrition for Learning Week, Scotia Group CEO, Jacqueline Sharp, joined Directors of the ScotiaFoundation, Branch Managers, and ScotiaVolunteers, to prepare and share breakfast to students in the schools that are all part of the Bank's breakfast programme. The Nutrition for Learning programme has assisted a number of primary institutions to supplement their school-feeding programmes by providing funds for meal preparation for more than 14 years.