Scotiabank / AAdvantage Business® Executive MasterCard®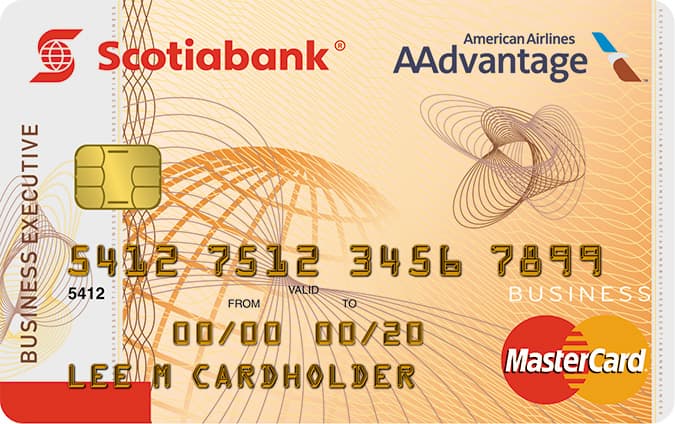 Right for you if:
You want a expense management tool plus incredible travel rewards.
Earn 
1 AAdvantage Mile for every USD$1 spend - Up to 5 cards available.
Welcome:
Earn 3,000 AAdvantage miles with your first purchase of any amount
Terms and Conditions for Current Credit Card Promotions
Welcome Offer
Your card comes with benefits
All the features and benefits of the Scotiabank MasterCard Business Card®† plus exclusive travel rewards
Earn one AAdvantage® mile for every U.S. dollar or equivalent you and your employees spend on the card2
Every 30,000 miles is worth one return flight from anywhere in the Caribbean to anywhere in the continental U.S. 3
Miles can be redeemed for business or personal travel
Redeem in over 550 destinations worldwide?
Access MasterCard's exclusive Concierge Service for recommendations and reservations for travel, dining, hotels and entertainment
Important changes to your Scotiabank credit card account:
Effective immediately, you will earn a maximum of 150,000 AAdvantage miles for purchases made on your AAdvantage credit card in a calendar year.
Need to ensure your credit card balance is covered, no matter what happens?
1
AAdvantage miles required are subject to change without notice.

2
North America includes Mexico, USA, Canada.

®
MasterCard is a registered trademark of MasterCard International Incorporated.

®
AmericanAirlines and AAdvantage are marks of American Airlines, Inc. American Airlines reserves the right to change AAdvantage program rules, regulations, travel awards and special offers at any time without notice and to end the AAdvantage program with six months notice. American Airlines is not responsible for products or services offered by other participating companies. For complete details about the AAdvantage program, visit www.aa.com/aadvantage. American Airlines, including its AAdvantage program, is not a financial service provider. Scotiabank issues the Scotiabank AAdvantage card.