Women business owners urged by tech leaders to "upskill fast" as Scotiabank Women Initiative (SWI) education pillar commences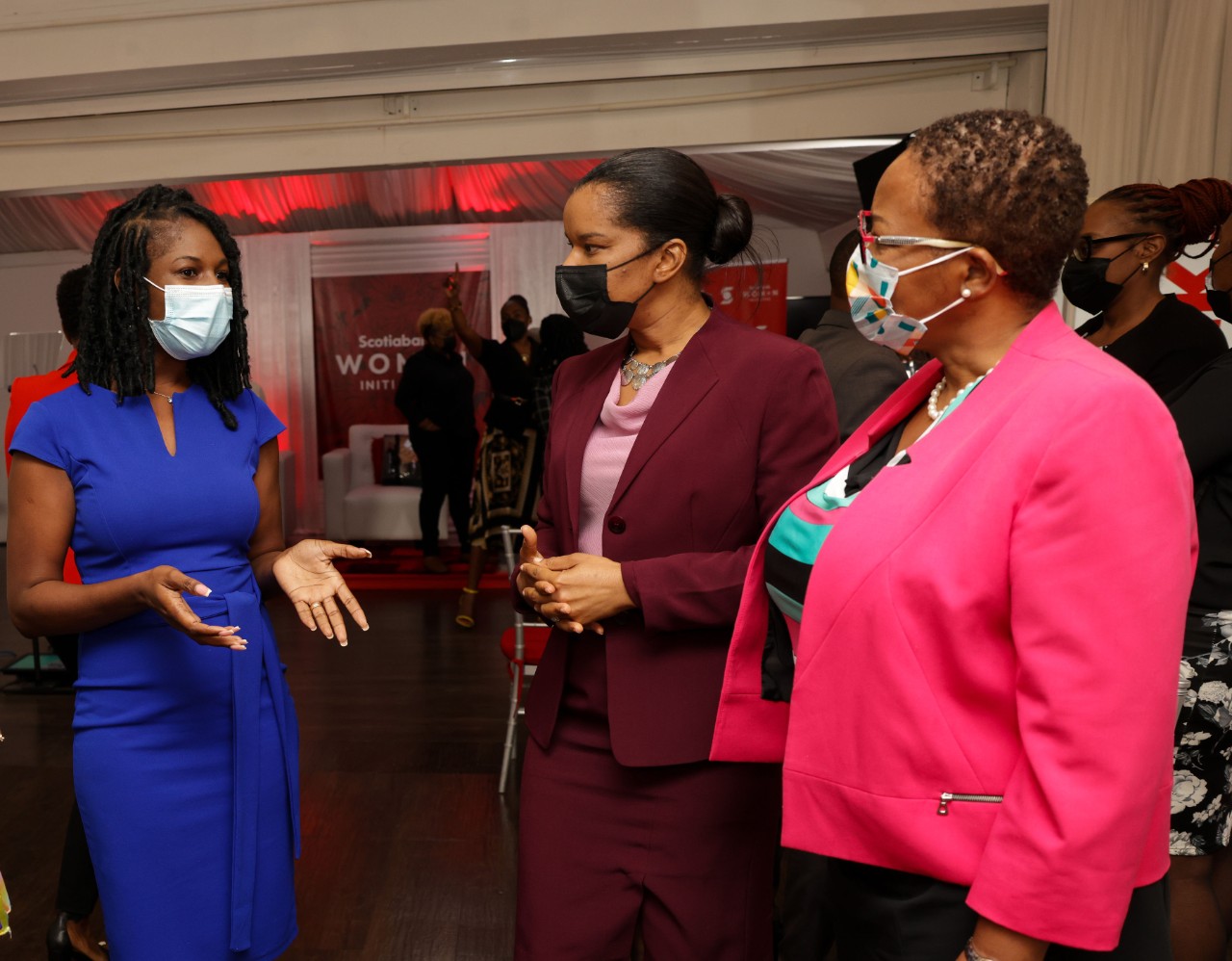 Caught in conversation with Pam Douglas ( right), Manager, Scotiabank New Kingston Branch are two of the workshop participants.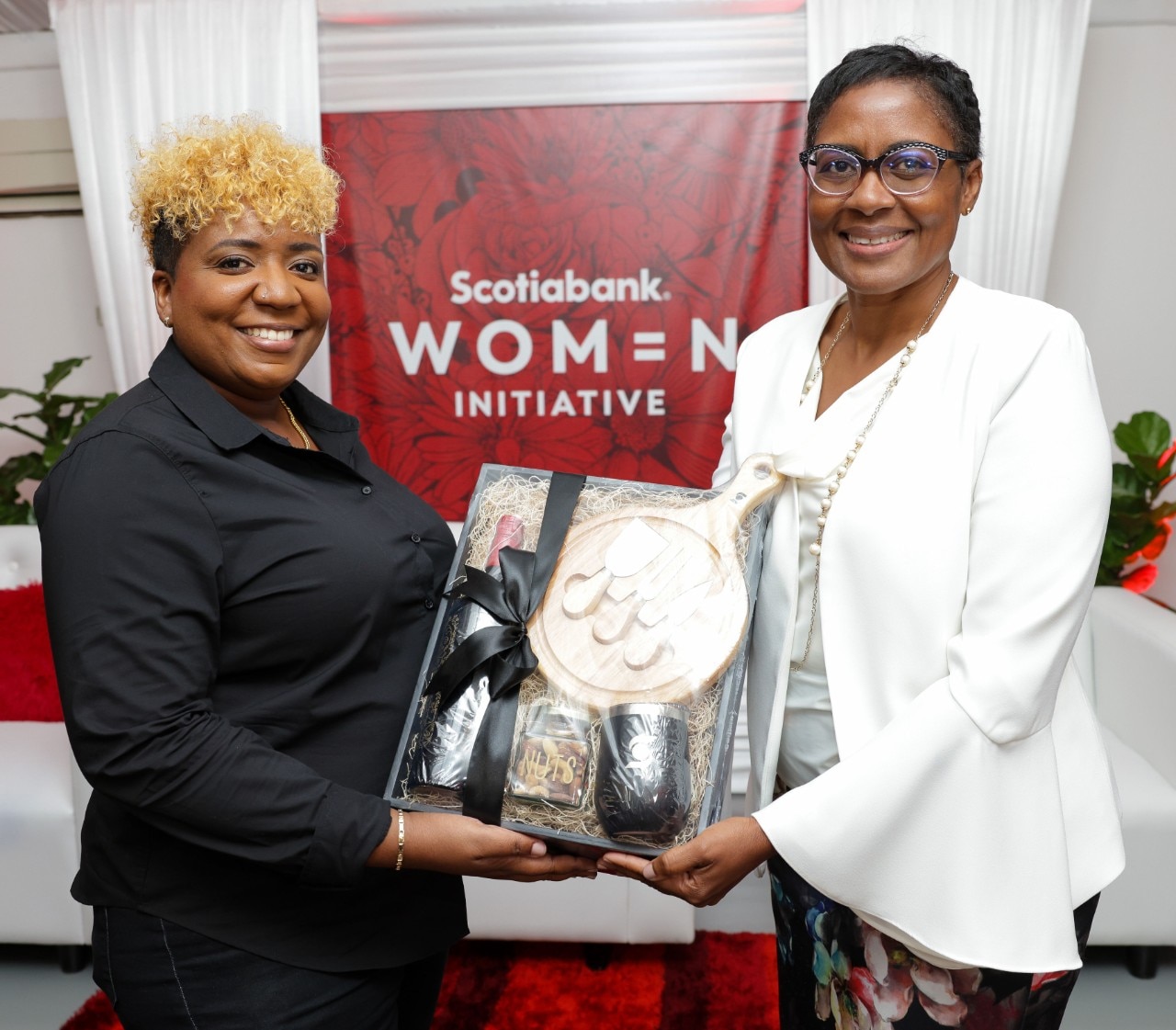 Nadine Heywood ( right) , Project Lead for the Scotiabank Women Initiative presents a token of appreciation to Monique Powell, CEO, QuickCart Ltd. who provided guidance and advice for attendees at the workshop.
Kingston, Jamaica – April 4, 2022 – The second pillar of the Scotiabank Women Initiative has been activated with the hosting of an inaugural seminar that was centred on the topic, "Breaking the Barriers to Women Entrepreneurs to Drive Business Success using Digital Technology." This component of the Scotiabank-led global empowerment initiative aims to provide business education for local women business owners.
"Women entrepreneurs need to upskill fast as many of the future businesses will exist in a digitally-transformed state," shared Ethnie Miller Simpson, event moderator as she addressed a combined audience of 90 women business owners joining at the Spanish Court Hotel and online. Miller is CEO of Zinergy International and was joined by panellists Nadia Carmino, Founder & CEO of Alliance One, Monique Powell, CEO, QuickCart and Gail Whylie, Senior Manager, Global Transaction Banking, Scotiabank.
During the session, all the panellists shared their history in the male-dominated business space and acknowledged that COVID-19 has helped to drive the move to digital technologies as their businesses strived to function within the restrictions that were imposed. Carmino and Powell discussed the many mobile and online apps they use to easily manage elements of their businesses. Both encouraged women entrepreneurs not to be afraid of technology and seek professional advice where necessary.
Whylie expanded on the topic by explaining that Scotiabank has heavily invested in digital technologies for Small and Medium-Sized Enterprises (SMEs), as well as educated the audience on the digital tools, and services the Bank offers.
"Scotiabank offers a wide range of services, for any size business, from a small company starting out, to a large company with complex needs," said Whylie. She also discussed the digital management and commerce tools that can assist female-led businesses to move forward.
"Our suite of internet banking products allows ease and convenience, especially for women business entrepreneurs – who are often juggling several priorities. No longer do you have to go into the office and have someone visit you physically. Through business internet banking you can pay your staff and monitor your finances from anywhere which is an especially important part of business when you are starting out," Whylie said. She added that comfort with digital tools can also lead to business expansion.
"Step-by-step, you will be able to reduce the fear that a lot of people approach digitization.
Once you get comfortable viewing your accounts, you will be able to transfer to a supplier, then you might say this was not so bad maybe I can try an international wire," Whylie encouraged.
The "go-digital" seminar also highlighted two important technological factors that women entrepreneurs should consider - integration and scalability. Integration, within the scope of the discussion, referred to how business processes flow or connect to each other. The better the integration, the more likely that multiple tasks can be handled with ease or that data can be transferred seamlessly between different software. The discussion on scalability was centred on growth and ensuring that businesses select digital applications that can be expanded as they grow.
Through the Scotiabank Women Initiative, other topical sessions will be hosted for women-led and owned businesses. The aim of the initiative is to advance women-led and women-owned businesses via a three (3)-pronged programme that will comprise, bespoke education, advisory services and mentorship and most importantly, access to capital for eligible businesses. Under the access to capital pillar, the Bank has committed a loan fund valued at three (3) billion Jamaican dollars for the next three years.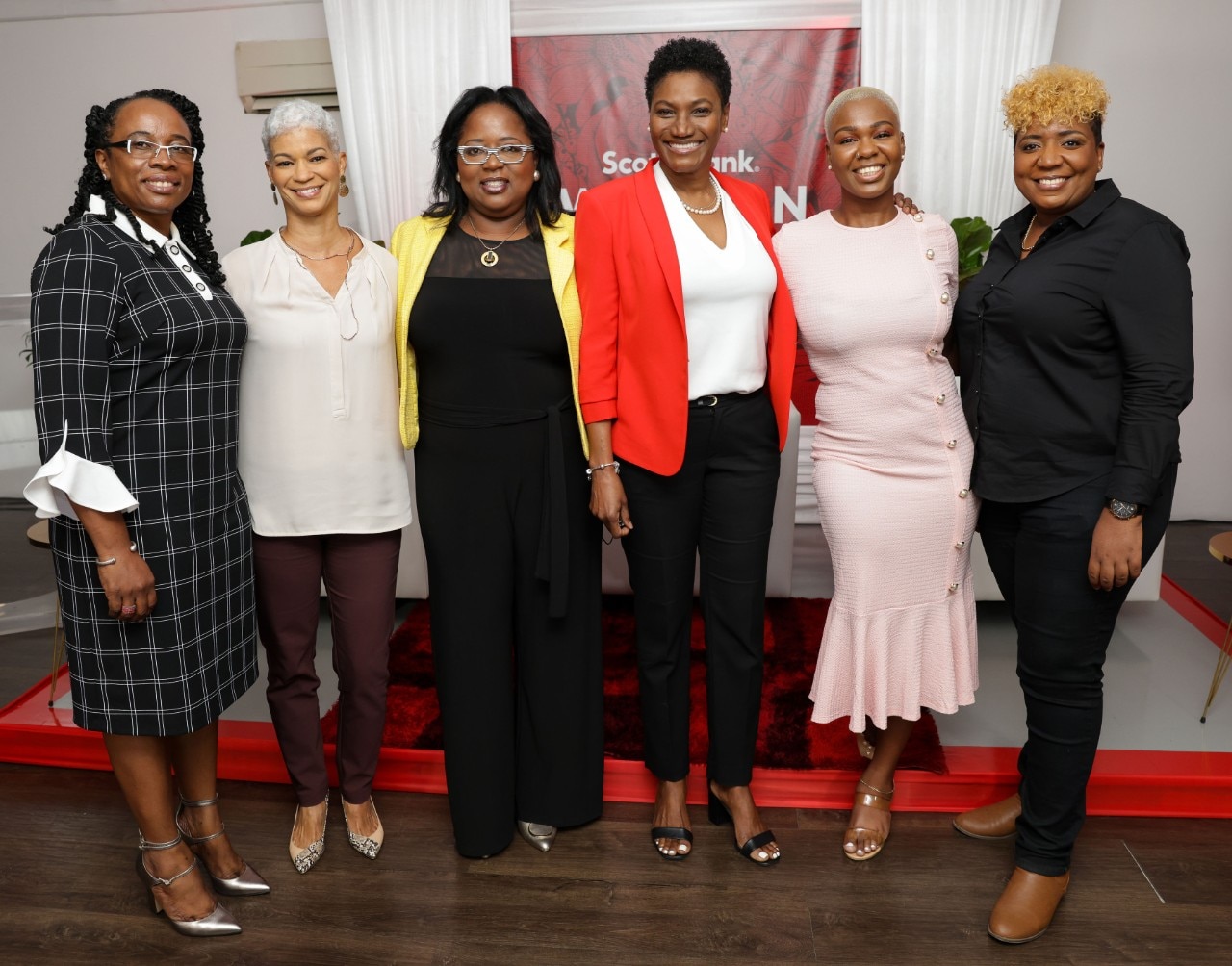 Scotiabank's Yvett Anderson, District Vice President, Retail Banking , Gail Whylie, Senior Manager, Global Transaction Banking, Ethnie Miller Simpson, CEO of Zinergy International Ltd., Audrey Tugwell Henry, President and CEO, Scotia Group, Shawneil Bailey-Gordon, CEO of Zarabelle Ltd. and Monique Powell, CEO, QuickCart Ltd. share a photo moment following the completion of a development workshop hosted by the Bank and centred on the topic "Breaking the Barriers to Women Entrepreneurs to Drive Business Success using Digital Technology."