Scotiabank Gold MasterCard®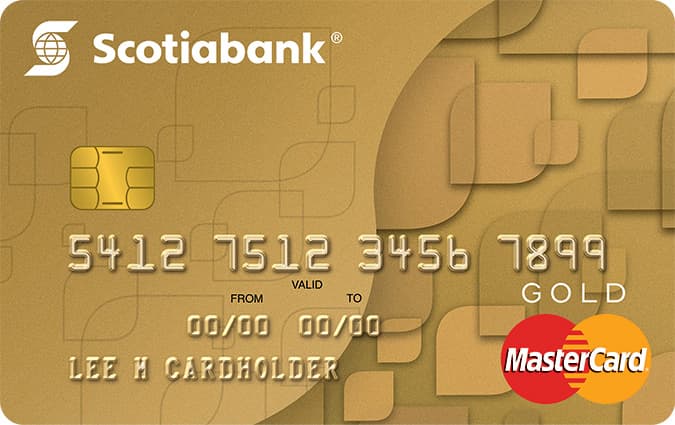 Right for you if:
You want cash back on every purchase
Right for you if:

You want a generous credit limit

Terms and Conditions for Current Credit Card Promotions
Welcome Offer
Your card comes with benefits

Earn cash-back rewards. Up to 4% rebate on all purchases in the form of a credit issued once a year in November
Additional cards available for free of charge for family members and friends

Free, personalised Convenience Cheques that you can use just like your personal cheques to make purchases, pay utility bills or get cash at a teller window

Up to US$200 for Purchase Protection per occurrence provides reimbursement for theft and /or accidental damage of purchase of the covered item

Guaranteed hotel reservations when you pay for hotel accommodations with your card

Peace of mind with emergency services available through MasterCard Global Service and MasterAssist®

Provide your family with financial comfort in the event of your death with optional, low-cost Credit Life Protection for up to US$25,000

Free credit card cheques to use for school tuition, paying off other credit card balances, or wherever credit cards are not accepted
Every transaction you make using a Scotiabank card with chip and your unique 4-digit Personal Identification Number (PIN) gives you an added layer of security. That means greater protection each and every time.


Up to 4%

rebate on all purchases

Up to US$200

per occurrence Purchase Protection

Find the card that's right for you.

Rates and fees vary depending on the Credit Card you choose. Download this easy-to-follow guide and choose the card best suited to your needs.
MasterCard Terms, Conditions and Agreement
Terms, conditions and exclusions apply.* Benefits offered by MasterCard®, for details please contact MasterCard LAC Services Help Desk 24 hours a day, 365 days a year at 1-904-636-2576 or lac_services_helpdesk@mastercard.com.

®
MasterCard is a registered trademark of MasterCard International Inc.

*
Certain restrictions apply. Please see MasterCard terms and Conditions for more details.