Scotiabank's Rise of Digital Banking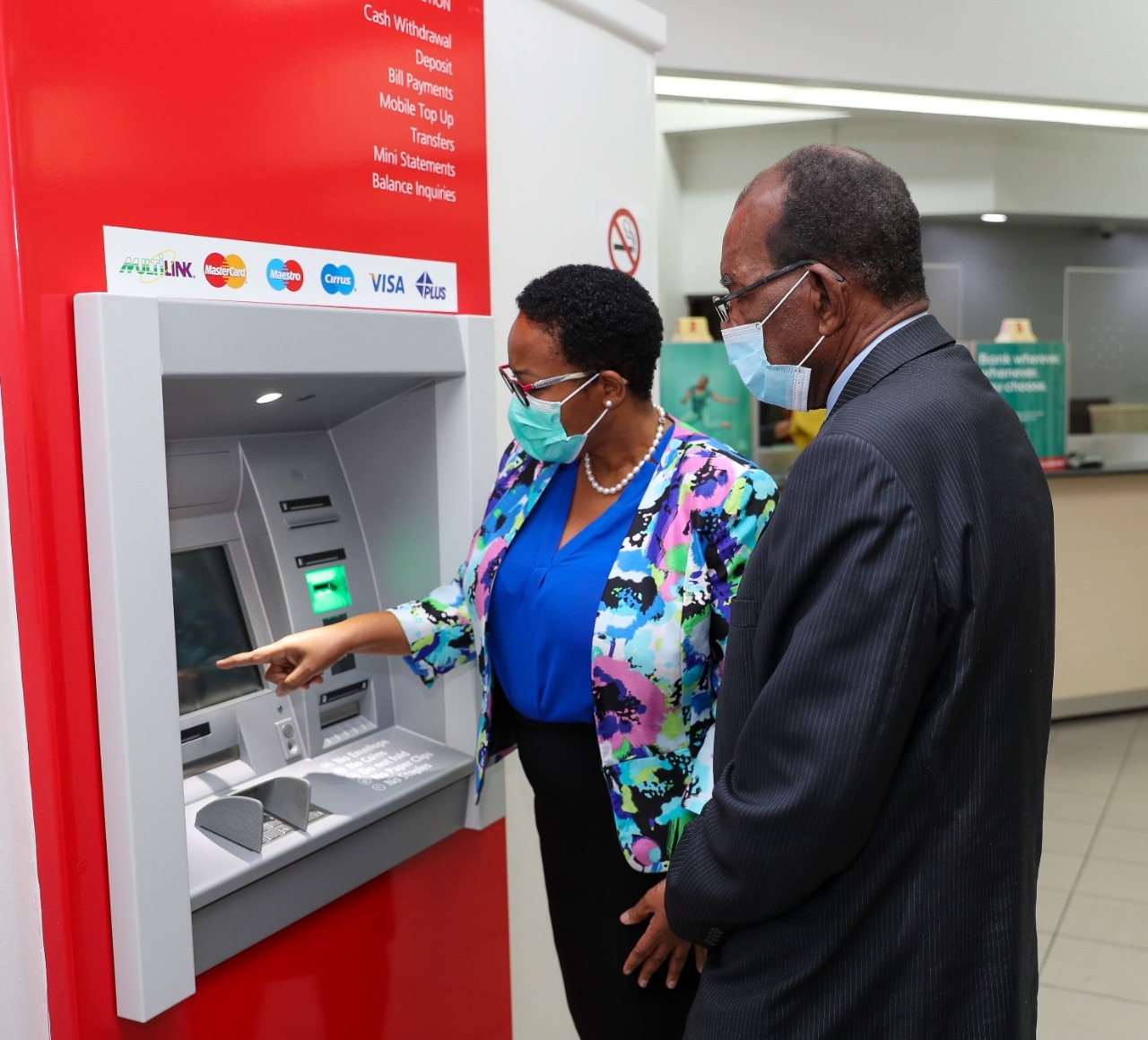 Mr. Percival Latouche (left), President of the Jamaica Association for Resettlement of Returning Residents is assisted by Pamela Douglas (right), Manager of the Scotiabank New Kingston branch to use the new Scotiabank Intelligent Deposit Machine ( IDM) during a visit.
Kingston, Jamaica– May 6, 2021 – The face of banking has changed dramatically in recent years with the COVID-19 pandemic accelerating the transition to digital banking.
Scotiabank - a leading proponent and advocate for the increased usage of digital banking says the expansion of its digital branch model is informed by the trends in the local market.
The Bank reports that as at January 2021, 32% of total transactions were conducted at an ATM, while 64% were conducted using point of sale machines and digital banking and only 5% conducted in physical branches.
While branches going "cashless" may seem strange to some, Scotiabank notes that the concept is common-place in other parts of the world, and is known to deliver a more holistic experience for banking customers.
Audrey Tugwell Henry, President & CEO of Scotiabank explains that a "digital branch" simply removes the focus from day to day cash transactions being done over the counter and instead, prioritizes other banking functions, including financial advice and planning.
Another key feature of Scotiabank's digital branches will be Wi-Fi enabled social zones where customers can use tablets provided by the Bank or their own device to utilise or get assistance with digital banking.
Considering the ongoing health crisis, Tugwell Henry also projects that more customers will continue to migrate towards digital banking options and that this model will form part of the new normal for all industries going forward.
Tugwell Henry further shared that Scotiabank has also been successfully operating a 'cashless' model in its branches located at the University of the West Indies, Mona Campus and Ironshore in Montego Bay for several years. The digital branch model is an upgrade of the cashless model with the addition of smart devices enabling customers to conduct online transactions. In May 2021, another six Scotiabank locations will adopt this model. They include Christiana, Falmouth, Portmore, Port Antonio, Port Maria and St Ann's Bay.
"This does not mean that we are completely doing away with cash or that customers with cash cannot use these locations," Tugwell Henry clarifies. Cash and cheque transactions at these locations will be facilitated at Intelligent Deposit Machines which will be available 24 hours per day and are a key component of Scotiabank's new 'digital' branch model.
"Our goal as a financial partner is to assist our customers to achieve their personal goals. The digital model increases both the efficiency and capacity of our staff and allows us to deepen our engagement with our customers.
The focus will then be shifted from 'one-off' or routine transactions towards offering personalized financial solutions," she highlighted.
For the past few years, Scotiabank has been advancing its digital strategy and making significant investments to offer more functionality and convenience through its self-service channels.