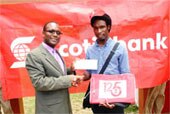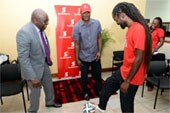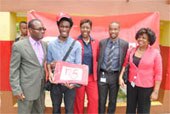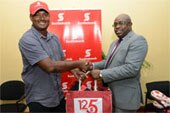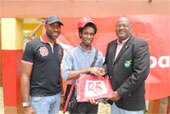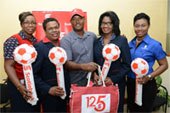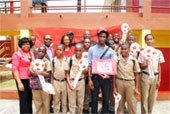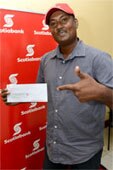 Scotiabank "FIFA Soccer World Cup 2014" Visa Credit and Visa Debit Card Promotion.
Lucky customers, Gordon Kerr (Ironshore, Montego Bay) and Craig Chin (Portmore), were winners of a 4 day, 3 night trip for two (2) to watch the FIFA Soccer World Cup in Rio de Janeiro, Brazil. Both received two (2) category tickets to FIFA World Cup match, and airline tickets from Kingston to Rio de Janeiro (return); 4 day, 3 night stay at a 4 star hotel, pre-paid Visa Card with spending money, meet and greet airport transportation, ground transportation for scheduled events and tours of the city.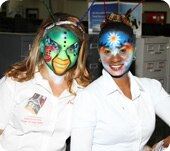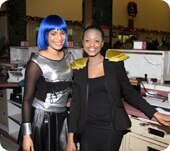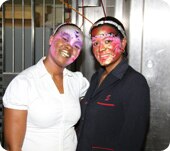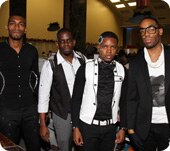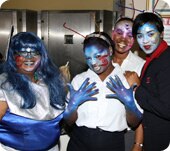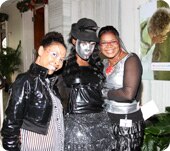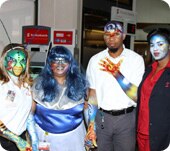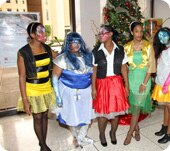 Customer Appreciation Day
Scotiabank observed Customer Appreciation day on December 17 with a futuristic theme that encouraged customers to enter the next frontier of banking made possible by the speed, convenience and efficiency of alternative channels. Staff from various branches dressed up in costume to promote the futuristic theme.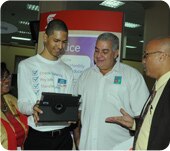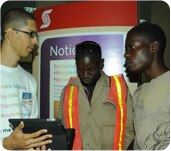 Showcasing our alternative channels
As another way of encouraging use of alternative channels, roving customer relations officers, equipped with IPADS are on hand at the Half Way Tree, Liguanea, Cross Roads and Scotia Centre branches of Scotiabank to demonstrate to customers the convenience of Mobile and Online Banking. Many transactions done in-branch can actually be conducted via ABM, Scotia OnLine, or Tele-Scotia. The most common transactions done in branch that can be conducted by other channels are transfers, deposits and balance enquires.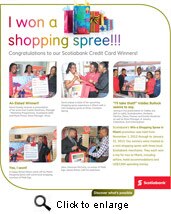 Scotiabank's 2013 Win A Shopping Spree Winners Selected
Scotiabank's Win a Shopping Spree in Miami promotion was held from November 1, 2012 to March 31, 2013. They each won a trip for two to Miami, spending money of US$3000 plus hotel accommodation. Our winners were also treated to a mini shopping spree with three merchants which participate in the More For You programme.
As the premier financial institution in Jamaica, Scotiabank is committed to introducing new products and services that meet the needs our customers, making them financially better off. The Bank is constantly engaging in promotional activities, which gives us an opportunity to develop further relationships with our existing and potential customer base. The activities and events below offer a snapshot of our product launches and promotions.
ADA/Scotiabank Motor Show

Scotiabank delighted patrons and buyers at the 2012 ADA/Scotiabank Motor Show held at the National Arena from March 23 – 25 with a special lowered rate of 9.5%. Buyers who signed referral sheets at the show will have access to the special rate until the end of May 2012.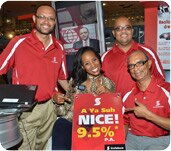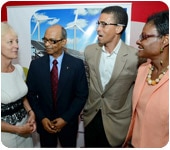 Green Energy Loan Launched
(From left) Kelly Tomblin, CEO of Jamaica Public Service Company; Wayne Powell, executive vice-president retail, Scotiabank; Dr Kirk Abbott, managing director of New Leaf Energy and Phoebe Buchanan, manager of Scotiabank's Constant Spring Financial Centre (CSFC) at Thursday's launch of the SmartEnergy calculator held at Scotiabank's Constant Spring Financial Centre on December 9, 2012.