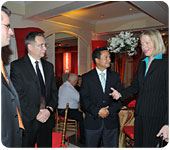 Special dinner held for Scotia Wealth clients
Anya Schnoor (left), Senior Vice President of Wealth Management at Scotiabank and CEO of Scotia DBG listens attentively as Bruce Bowen (right), Scotiabank President and CEO speaks with her attention at a special dinner held for Scotia Wealth clients at the Terra Nova Hotel on Wednesday night. Looking on is Dr. Warren Jestin, Scotiabank chief economist visiting from Toronto. Dr. Warren was the guest speaker at the event and presented on the topic the current state of the world financial system and prospects for recovery.

Special dinner held for Scotia Wealth clients
Anya Schnoor (far right) speaks with Omar Azan, president of the Jamaica Manufacturer's Association at special dinner held for Scotia Wealth clients at the Terra Nova Hotel on Wednesday night. Sharing in the moment are Scotiabankers Karl Rubach (far left) and Dr. Warren Jestin (2nd left) who are visiting Jamaica from Toronto. Dr. Jestin is Scotiabank's chief economist and guest speaker at the event. He spoke with the wealth clients on current state of the world financial system and prospects for recovery.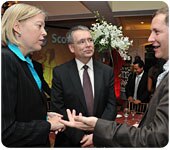 PriceSmart shopping cart
Barrington Graham, Marketing Manager of Electronic Banking pushes out a PriceSmart shopping cart full of groceries and supplies at the launch of the new Scotiabank PriceSmart Diamond MasterCard Credit Card at the Knutsford Court Hotel in Kingston today. The Scotiabank PriceSmart Diamond MasterCard is the only credit card in the market that offers customers rewards of up 4% cash back on purchases.
Prime Minster of Jamaica
Prime Minster of Jamaica, The Hon. Bruce Golding joins Scotiabank president and CEO Bruce Bowen in unveiling a plaque at the Scotiabank Group Financial Centre at the official opening ceremony on August 20, 2009.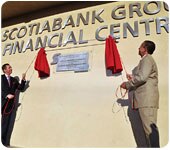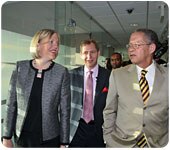 Tour of the new Scotiabank Group Financial Center
Anya Schnoor, Scotiabank's Senior Vice President for Wealth and CEO Scotia DBG Investments takes Prime Minister The Hon. Bruce Golding on a tour of the new Scotiabank Group Financial Center, the hub of the Bank's wealth management services following the official opening ceremony for the Centre last week Thursday. Also on the tour (at rear) is Scotiabank's President and CEO Bruce Bowen.
Scoliosis Care
Scoliosis patients Onekki Barnes, Britany Henry, Tameika Morgan and Krischion Johnson listen attentively to William Clarke, President and CEO of Scotiabank as he speaks with them after announcing that they were the first five beneficiaries to received free surgery compliments of Scotiabank to correct the curvature in their spines. The cost of surgery for the five young ladies total $2.5 million.
The Scotiabank Jamaica Foundation launched its Scoliosis Care programme yesterday at the Terra Nova Hotel and announced that it will spending $7.5m within the next five years to fund surgery for several adolescents suffering from the disease.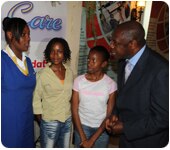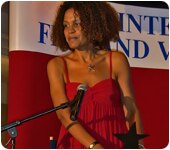 Hollywood Award
Zoe Welsh, Programmes Production Specialist at Scotiabank collects a Silver Screen Award and Certificate of Excellence from Lee Gluckman Jnr. at the recent 41st anniversary of the US International Film and Video Festival held in Hollywood recently.
Cancer Care
A Scotiabank Volunteer from the Scotiabank Spanish Town registers several ladies for free cancer screening in an outreach organised between Scotiabank and the Jamaica Cancer Society at the Spanish Town branch. Over 60 ladies over 40 years old received breast and cervical screenings from the Cancer Society.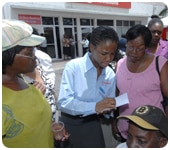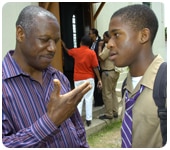 Scotiabank Lecture Series - 2008
Professor Muhammed Yunus, Nobel Peace Prize Laureate and Guest Lecturer at the Scotiabank Lecture Series 2008 meets Dr. Omar Davies past Minister of Finance at the event held at the Jamaica Pegasus Hotel in June 2008. Prof. Yunus, founder of the Grameen Bank established in Bangladesh in 1983focussed his presentation on the theme "Eradicating Poverty Through Small and Micro Enterprises". Over the brief five-year history, the Lecture Series has become a well-anticipated event on the local business calendar and had well over 600 persons from the business, political, judiciary civil sectors in attendance.
HIV AIDS Grand Final
Student Debaters from the Corinaldi Primary and Junior High School celebrate winning the Scotiabank HIV and AIDS Debating Competition. The Corinaldi team topped 96 schools that entered the debates and have been on an unbroken winning streak since the debates began on February 5. Each member of the winning team from Corinaldi Avenue received $300,000, a trophy and certificate while the school received 3 computers and one printer.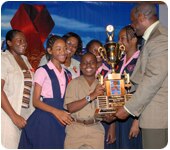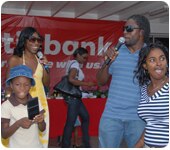 Scotiabankers raise funds for UHWI
Emcees Jerry Benzwick and Jodi-Ann Gray having fun with patrons of the Scotiabank fundraiser "Laugh Till Yuh Belly Buss" funday and comedy show held to raise funds to purchase an Intra-Aortic Balloon Pump for the University Hospital. Hundreds of Scotiabank feverishly joined hands and hearts together to plan a series of fund-raisers to purchase an Intra-Aortic Balloon Pump for the University Hospital of the West Indies. This is a vital piece of equipment is used to offer emergency care to persons suffering from a stroke, heart attack or similar illness.
Scotiabank launches SME Chair at Utech
Valerie Tappin Senior Director, Technology Innovation Centre, Prof. Rosalee Hamilton Mr. William Clarke and Prof. Errol Morrison are all delighted about the launch of the Scotiabank Chair for Small Business at the University of Technology Innovation Centre. Scotiabank will be funding the establishment of a Chair for Entrepreneurship, Finance and Development at the Technology Innovation Center, University of Technology in the amount of $35.5 million to be disbursed over the next five years.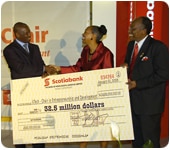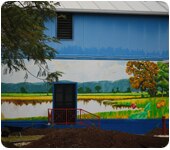 Scotiabank Observes Labour Day
Scotiabank volunteers and students from the St. Hugh's Environmental Club worked together to draw and paint a mural at the Bustamante Hospital for Children as part of the Bank's Labour Day project for 2008.

 Volunteers worked hard and got their hands dirty planting flowers and imputing other landscaping details in a designated green area at the Bustamante Children's Hospital on Labour Day 2008.
Scotiabank Stages HIV Road Show
A resident of the Black River community in St. Elizabeth speaks to a member so the UNICEF sponsored Bashy Bus Crew about safe female condom usage at the Scotiabank organized HIV and AIDS Awareness Roadshow. The young adults from the Bashy Bus crew shared various dramatic presentations on dealing with HIV and AIDS and offered free HIV testing and counselling to St. Elizabeth residents in the town on March 2,2007.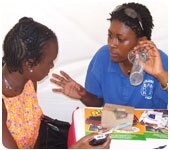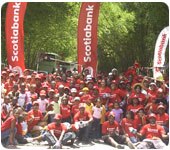 Scotiabankers Undertake Labour Day Project 2007
Scotiabankers take a break after working on Labour Day 2007 in Holland Bamboo, St. Elizabeth, a well-known tourist attraction and local heritage site. The team spent the day bushing, mulching, clearing the area of garbage and replanting young Bamboo sucker to replace the damage that has been done in that area over the last few years. Over 200 Scotiabankers worked along with a core team from the Ministry of Agriculture and the Tourism Product Development Company to do the rehabilitation work.
Schools Benefit from Computer Donations
Students of Alps Primary School in Trelawney will join their four classmates seen here in learning new computer skills, thanks to Scotiabank's recent donation of computers to the school. Heather Shields, Vice President of Marketing, presented the computers to the School's representative, Bevon Ferguson (second right).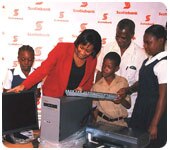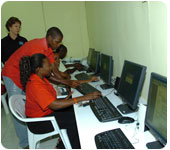 Community Group Receives Computers
Karlene Temple, Sean McGregor and Sonita Abrahams of Rise Life Management (formerly Addiction Alert) work on computers recently donated by Scotiabank to enhance the Agency's current education and social initiatives in six inner-city communities across Kingston, Jamaica.
Scotiabank Mandeville Celebrates 100th Anniversary
Carl Bright, Manager of Scotiabank Mandeville helps Scotiabank customer 103-year-old Francis Baker cut the ribbon at a symbolic re-opening of the Branch which celebrated its 100th anniversary on August 18, 2007. The Branch, which is one of Scotiabank's largest locations, services customers from St. Elizabeth, Manchester and Clarendon in Jamaica.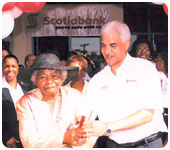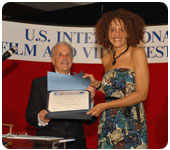 Scotiabank Receives 'Hollywood' Award
Zoe Welsh, Programmes Production Specialist at Scotiabank collects a Certificate of Excellence from Lee Gluckman Jr. at the recent 40th anniversary of the US International Film and Video Festival held in Hollywood last weekend. Scotiabank was awarded the Certificate for its local video production "A Letter to Pearl " a Jamaican dramatised story told by popular storyteller Amina Blackwood Meeks, and used in the Bank's recent Speak Up, Speak Out, HIV & AIDS Debating Competition for primary schools.
Scotiabank Observes 'Take Your Kids To Work Day' 2007
A few of the students who participated in Scotiabank's 'Take Your Kids to Work Day' gathered in the Scotiacentre branch before they all went off to their various locations for a hard day's work. The students understudied their parents to get a better appreciation for the jobs they performed and possible insight in career opportunities in Banking.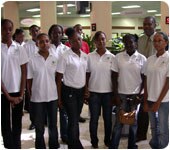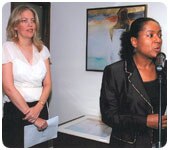 Scotiabank Hosts Celebration of Art
Bridget Lewis, General Manager of Private Clients Services (SPCS) and Anya Schnoor, Chief Executive Officer of Dehring Bunting and Golding welcomed guests to SPCS Celebration of Art event for 2006. In the background are several paintings from P.J Stewart, one of the featured artists of the show.
Scotia Volunteers Build Home
Scotiabank Volunteers funded and constructed a two-bedroom, unit complete with living bathroom and kitchen for a three-generation poverty stricken family in St. Thomas Jamaica. The house is now home to a 92 year old partially blind grandmother, her 40 yr old daughter and her five children. The staff at Scotiabank spent one day building the house under supervision from officials from Food For the Poor, Jamaica.