As the premier financial institution in Jamaica, Scotiabank is committed to introducing new products and services that meet the needs our customers, making them financially better off. The Bank is constantly engaging in promotional activities, which gives us an opportunity to develop further relationships with our existing and potential customer base.
The following are a selection of corporate events attended by our team.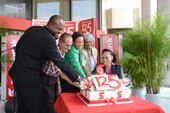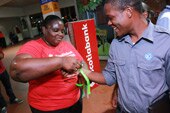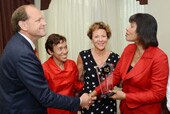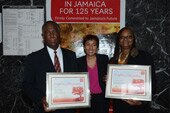 125th Scotiabank Anniversary
On August 24 Scotiabank celebrated 125 years in Jamaica. Celebrations surrounding the event included a thanksgiving service, presentation of certificates of appreciation to 125 customers, identified by tenure, volume of business, and being Scotiabank ambassadors, presentations of commemorative awards to Jamaican business and political leaders, and a cultural concert with UWI Singers and the National Dance Theatre Company (NDTC).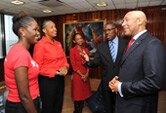 Governor General Visits Scotiabank
Governor General His Excellency Sir Patrick Allen made an official visit to Scotiabank on September 12, 2014. It was his first official visit to Scotiabank, and he used the opportunity to congratulate the Volunteers on their continued involvement in community projects.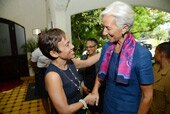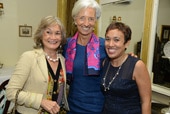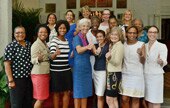 Madame Lagarde
Scotiabank facilitated a meeting between International Monetary Fund (IMF) Managing Director Christine Lagarde and women leaders for discussion on issues faced by Jamaican women. Fifteen women from a cross-section of organisations including NGO's, the public and private sector and academia were involved in the discussions.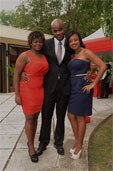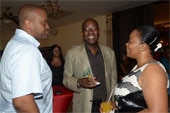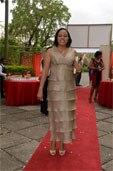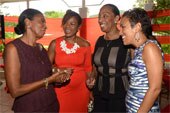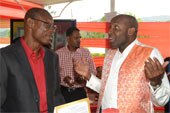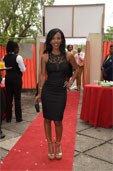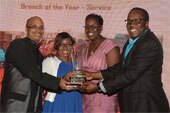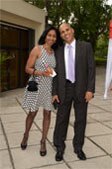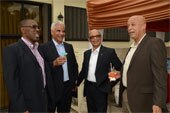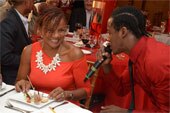 Scotiabank Service & Support Awards Ceremony
On Saturday, May 31, 2014, Scotiabank feted their top staff members at the Service & Support Awards Ceremony. Fifteen awards were presented to staff members voted by their peers and customers as being at the top of their game. The event included cocktails, a balloon release, the awards presentation and dinner. Savana-La-Mar was awarded the trophy for Top Branch.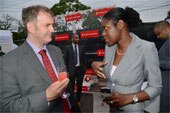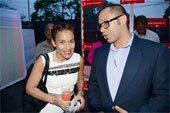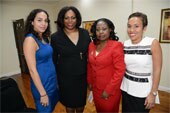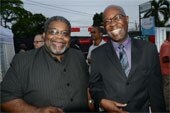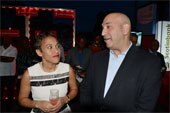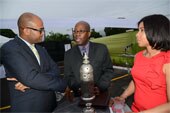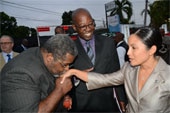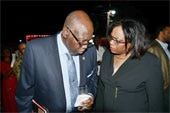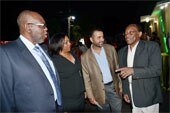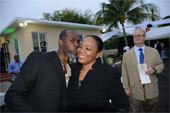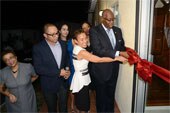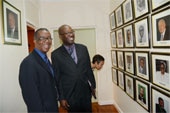 Healthy Population Initiative launched – June 2014
Scotiabank partnered with The Medical Association of Jamaica (MAJ) to introduce the Healthy Population Initiative, a plan that seeks to promote wellness and reduce health risk behaviours through health promotion and health education. The launch took place at the opening of the MAJ's renovated offices at 19A Windsor Avenue. It was also an opportunity for Scotia Insurance to launch their newest product Affirm, a Universal Life policy enhanced with a critical Illness component.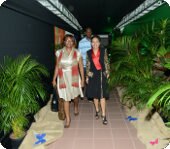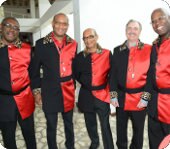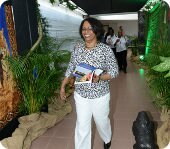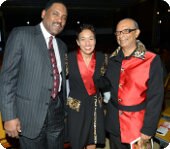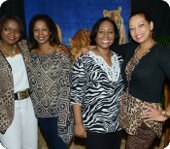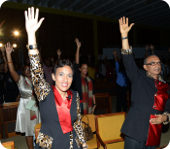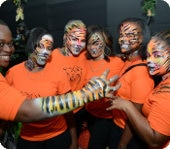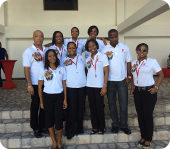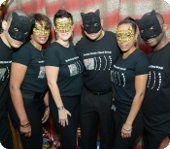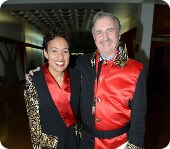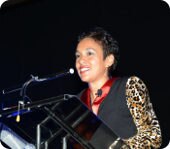 2014 Sales Conference
The 2014 Sales Conference was held on January 25 at the Jamaica Conference Centre. It was a fun, engaging event where the sales team was challenged and inspired to deliver optimal results for 2014.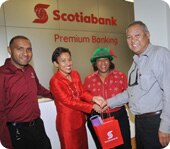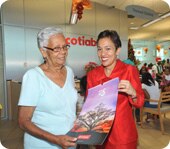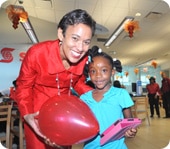 Scotiabank observes Customer Appreciation Day (December 17, 2013)
Customers were delighted by a day of fun, entertainment and education on alternative channels. Jackie Sharp, president and CEO visited several branches meeting customers and staff members throughout the day.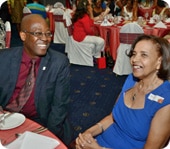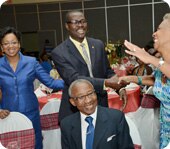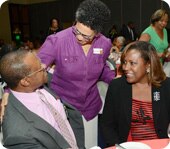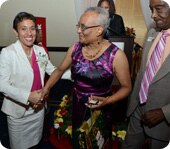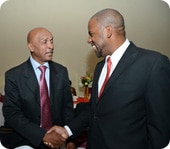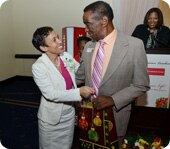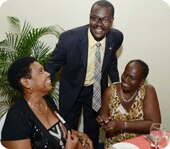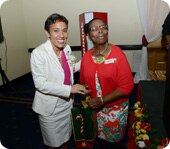 Scotiabank celebrates pensioners
The annual pensioners' luncheon was held at the Jamaica Pegasus Hotel on December 13 and brought together Scotiabaners from various eras to meet with Jackie Sharp, and the Executive Team.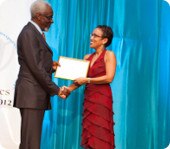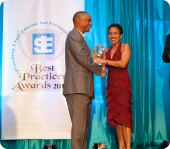 Scotia Group wins Governance Award at the Jamaica Stock Exchange's Annual event
Scotia Group tied with NCB as winners of the Private Sector Organisation of Jamaica Governance Award at the Jamaica Stock Exchange's Best Practices Awards held on December 4, 2013. Scotia Group was also runner up for the Best Annual Report award. Mrs Jackie Sharp, president and CEO receives the PSOJ Governance award from Dennis Chung, executive director of the PSOJ; and the annual report award from the event's keynote speaker, the Rt. Hon P.J. Patterson, former Prime Minister of Jamaica.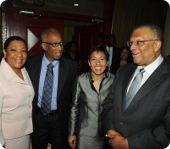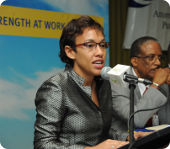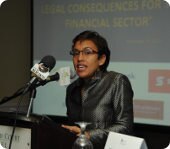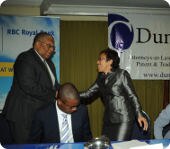 Jacqueline Sharp President and CEO delivered a presentation entitled "Toward the future: Imperatives for the financial sector and the economy" at the Dunn Cox Law Firm's forum on 'The IMF Agreement: Pracitcal and Legal Consequences for the Financial Sector' on November 13, 2013 at the Knutsford Court Hotel. Dr the Honourable, Peter Phillips, Minister of Finance was keynote speaker.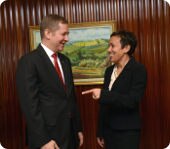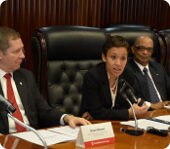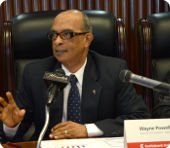 Scotiabank's Q3 Investor's briefing was held on September 4, 2013 with Jackie Sharp, newly appointed President and CEO, Wayne Powell, Executive Vice President - Retail; Lissant Mitchell, CEO Scotia Investments; and Hugh Reid - President of Scotia Insurance, outlining the Group's performance. All areas of the Bank's business lines produced solid results despite the challenging economic times, signalling the continued confidence our customers place in Scotia Group. Total loans and deposits in Scotiabank grew significantly quarter over quarter; assets under management at Scotia Investments increased by 14% year over year and new mortgage originations grew by 34% year over year.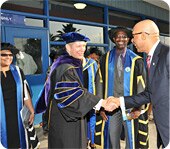 Bruce Bowen honoured by the University College of the Caribbean
Bruce Bowen, President and CEO of Scotiabank was conferred with the Degree of Doctor of Laws, (LLD) Honoris Causa, by the University College of the Caribbean (UCC) at its graduation ceremony held July 14 at the National Arena. The honorary doctorate was awarded based on the tradition of honouring deserving commencement speakers in this manner. Mr. Bowen was also recognized for his significant contribution to nation building through banking, financial sector leadership and philanthropy through the work of the ScotiaFoundation. 430 graduates were awarded first and second degrees at the ceremony. Here he is congratulated by the Most Honourable Sir Patrick Allen, Governor General of Jamaica, while Dr Winston Adams , President of UCC (centre) looks on.
Scotiabank wins 2013 Private Sector Organisation/Jamiaca Customer Service Association's Service Excellence Award
Tracey Ferrant, Customer Experience Officer; Wayne Powell, Executive Vice President – Retail; Diana Deer, Customer Experience Manager; accept the 2013 Private Sector Organisation/Jamiaca Customer Service Association's Service Excellence Award from Christopher Zacca, president of the PSOJ at a ceremony held in Kingston in May. The Bank emerged as one of three large companies with top scores in leadership strategy and governance, service standards, the existence of a service charter and its deployment throughout the organisation.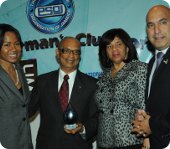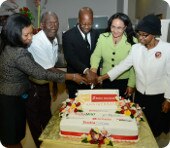 Hugh Reid, president of Scotia Insurance (centre), and Lana Forbes, Director of Sales (first left) cut the 15th anniversary cake with customers at the Client Forum held June 27 at the Constant Spring Financial Centre.

Scotia Jamaica Life Insurance Company marks 15 years
Scotia Jamaica Life Insurance Company started its week of activities to mark its 15 years of operation with a service at the Boulevard Baptist Church. Hugh Reid, president of JLIC, presented a cheque to Rev Dr Devon Dick, the pastor of the church. The funds are donation to the church's social projects. Other activities to mark the week include a public forum on estate planning and in-branch activities with SJLIC's customers.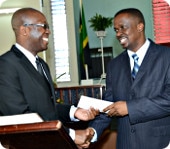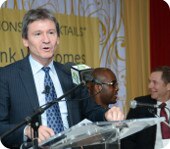 Scotiabank Corporate and Commercial Banking Centre hosts economic forum
Senior Vice President Pablo Breard, economist, and head of International Research was keynote speaker at an economic forum hosted by Scotiabank's Corporate and Commercial Banking Centre on May 15 in Kingston, Jamaica. He looked at the global economy particularly the outlook for Jamaica's major trading partners.
Senior Economist, Pablo Breard meets head of Planning Institute of Jamaica (PIOJ)
Pablo Breard, , senior economist, Vice President and Head of International Research at Scotiabank (second left) met with Colin Bullock, PIOJ Director General (left) Wednesday. Breard is in the island for four days to meet with meet with clients and other stakeholders of Scotiabank, including representatives of the government and multilaterals. Accompanying him were Dr Wayne Henry, Scotiabank's Vice President of Government Affairs (seocnd left) and Dr Adrian Stokes Group Strategist.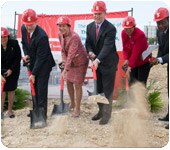 New Financial Centre for Montego Bay
Mayor of Montego Bay Glendon Harris (right) joins representatives of Scotiabank (from left) Rosemarie Pilliner, Executive Vice President – Operations; Bruce Bowen, President and CEO of Scotiabank Jamaica; Sylvia Chrominiska Group Head – HR and Communications; Brian Porter, President of Scotiabank International; and Dr. Angela Samuels-Harris, Director of the Board of Scotia Insurance Jamaica Ltd; in breaking ground for the construction of the Scotiabank Financial Centre in Fairview, Montego Bay, on February 28, 2013.
International Women's Day
To mark International Women's Day, Scotiabankers donated more than 3 dozen outfits and more than a dozen pairs of shoes to Dress for Success, a charity that prepares women for the world of work. Here, Patricia Sutherland of Dress For Success (left) examines one of the suits donated by Scotiabankers. Present are Minette Bryan Regional Manager Operations and Projects; Joan Dacosta, Document Services clerk and Marcette McLeggon Vice President Credit Solutions.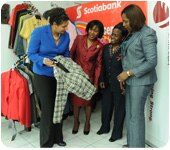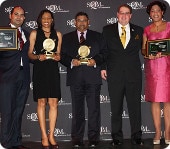 Scotiabank Jamaica's World Class Contact Centre
Reuben Canagaratnam, Regional Vice President for the English Speaking Caribbean (third left), Sheila Segree-White, General Manager Regional Contact Centre (second left) happily receive their Service Quality Management (SQM) award in November at the 14th Annual Call Centre Conference in Las Vegas. SQM is the most prestigious North American award for contact centres and surveyed one million customers, 450 call centres and 25,000 customer service representatives to identify top performers. Of the 450 call centres surveyed, Scotiabank is one of only 24 which were certified World Class by SQM in 2012.